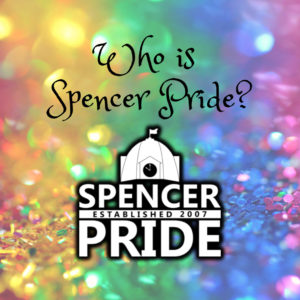 Officially speaking, Spencer Pride is a 501(c)3 not-for-profit organization that is 100% volunteer-fueled. We work collectively, by engaging our community, to help make Indiana a more welcoming place for ALL people. We do this by educating the public about rural lesbian, gay, bisexual, transgender, and queer (LGBTQ+) people and issues.
But, we are more than that.
We are mothers and fathers; we are sisters and brothers; we are cousins and aunts and uncles; we are grandparents and grandchildren; we are neighbors and colleagues; we are friends and spouses and partners.
We are a commUnity center; we are a Safe Place; we are Gathering Place; we are a Meeting Room; we are a Pride Festival; we are a youth group.
We are volunteers; we are a support network; we are retired; we are employed; we are in school; we are home-schooled; we are religious; we are spiritual; we are atheist; we are agnostic.
We are sports fans; we are readers; we are gardeners; we are farmers; we are pottery makers; we are knitters; we are bird watchers; we are gamers; we are runners; we are eaters; we are entertainers; we are introverts; we are extroverts.
During the month of July, you will get to know more about who we are and where we have been.